Manico at the BETT fair in London, 22-25 january 2020
Thank you all visitors at the BETT fair in London. We showed our solution for digitizing preschool and school with Manico FunTable and associated software.
Manico FunTable is an interactive 32" touchscreen built into a stable box. It can stand in a school, pre-school, library, museum, shopping mall or other public/private place to entertain the children in an educational way.
Technique
FunTable has an accurate P-Cap technology that gives the market's best touch feel and precision. The design on the table is slim and it fits into the office environment as well as in public places and in preschool and school.
Quality
Manico FunTable is made in Sweden, it has a durable construction and the shell is made of environmentally friendly plastic.
Manico AB started in autumn 2012 by
a teacher, a salesman and an engineer.

We all believe in interactive and joyful
learning. We also believe that you learn
more quickly if you learn together with
someone else.

Manico AB develops, manufactures and sells digital platforms for learning and playing in preschools/schools, companies and public areas such as restaurants, museums, shopping centers and indoor playgrounds.
Developed and manufactured in Sweden.

Strong and durable.

Market's best touch technology.

Stylish and playful design.

Educational apps are included.

Environment friendly and recyclable.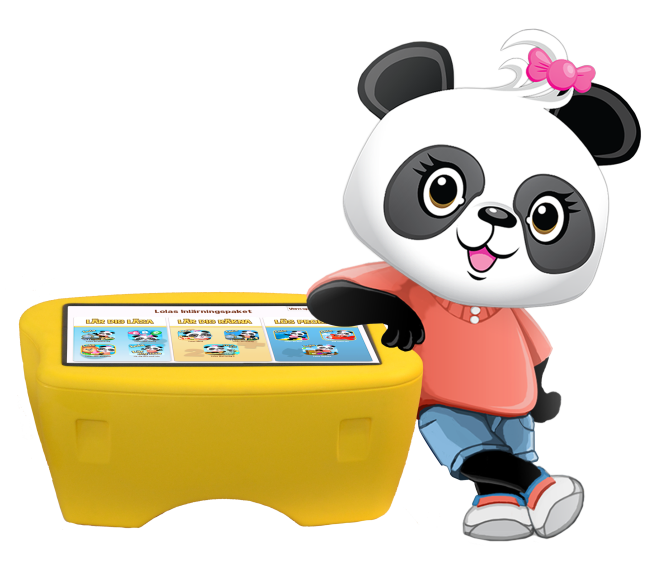 Lola Panda + Manico FunTable = Joyful Learning
We thank everyone who visited our booth on the SETT days in Kista. We showed Manico FunTable 3.0 with Lola Panda's apps for children aged 3-9. Lola's app teaches children to read, count and develop their logical conclusion. The children can log in with their profile and the educator can keep track of the child's development curve via "Progress Tracker".
As an educator, you will learn how much time the child plays and how many tasks the child has managed and what tasks the child has to solve. Some apps also measure more in detail, for example, how many letters and words they recognizes, the response frequency and the managed data. Each child has their own profile that keeps track of solved tasks and let the child continue playing where they left off last.
Are you interested, please contact us!
We at Manico are both proud and happy that FunTable now is available at Fenomenmagasinet, Science Park in Linköping. Photo: Corren Media House, Gunilla Olsson
" Good that kids can work together "